THIS is why we need crypto
News
/ December 12, 2018 / Comments: 0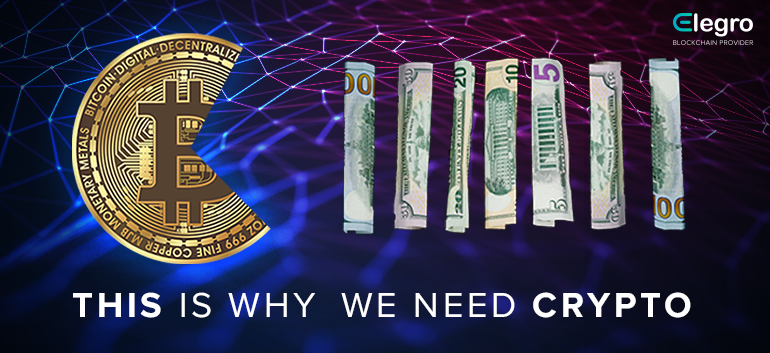 Much has changed since 2008, when Satoshi Nakamoto had presented Bitcoin as a reliable solution to fix pesky double-spending issue. In 2018, the P2P cash is MAYBE a step and a half away from joining the list of regular currencies. Believe it or not, these days you can do shopping and buy things for crypto coins. Need a proof? Well, a full pack of elegro's payment solutions is at your service!
It's more than a human life, it's profit
In April 2018, the GoFundMe project was launched after a terrible crash that cost 16 lives of Canadian pucksters. It was a fundraising event for survivors and victims' families. For 12 days the project raised $15 185 700 from over 142 000 donators. According to sources in Canada, an interim payment of $50 000 was paid out to each of the survivors and families of the 29 people affected by the accident. Pretty impressive, eh?
However, the "surprises" didn't end there. Later this year, a Reddit user highlighted the fact that world-famous payment processors have benefited from the fundraising. So, processors including Paypal and Visa "took a 2.9% cut from the entire fundraising effort." As a result, $500 000 that could be put to better use got lost because of transaction fees. Oh well, it looks like for some folks even a tragedy is not a matter for sympathy.
Banks get a bit too greedy
Domestic and international wire transfers make a permanent source of income for modern banks and payment services providers. As for an average person trying to keep his/her business alive, dealing with a middleman isn't the best option. As we all know, intermediation services cost money which makes wire transactions more expensive. So the minimum transaction amount is limited. As a result, people just can't wire small amounts of money on a daily basis. Weird but true. 
How much is the fiat wire?
Now, let's take a closer look at incoming and outgoing wire transfer fees some well-known banks can boast of.
Bank of America
Domestic Wires
Incoming: $15

Outgoing: $30
International Wires
Incoming: $16

Outgoing: $45 (USD)
JPMorgan Chase
Domestic Wires
Incoming: $15

Outgoing (online): $25
International Wires
Incoming: $15

Outgoing (online): $40
Crypto looks more promising
In comparison with traditional banks, modern crypto platforms charge unspeakably low fees for coin transactions. Look at these figures!
Bitcoin Cash (BCH): $0.0045

Ethereum (ETH): $0.06

Litecoin (LTC): $0.016

Stellar (XLM): $0.00000114

TRON (TRX): $0.0000013
"Crypto is the future"
Sure thing, cryptocurrencies have their weak spots. One of those is relatively low turnover. On the other hand, projects such as Ripple look very inviting. The main pro of crypto transfers is that you can send assets in no time for nominal fees. And not only that!
elegro team offers a more comprehensive approach. If you want to accept cryptocurrencies or cash out coins, feel free to do it with no hassle and extra expenses. Buy/sell crypto coins at direct rates and wire regular money via SEPA or SWIFT for fair fees.
Yes sir-e bob, we CAN do without middlemen and manage hard-earned money on our own. THIS is why we need crypto.