elegro Exchange: Expanded Exchange Opportunities
ELEGRO Ecosystem
/ November 28, 2018 / Comments: 0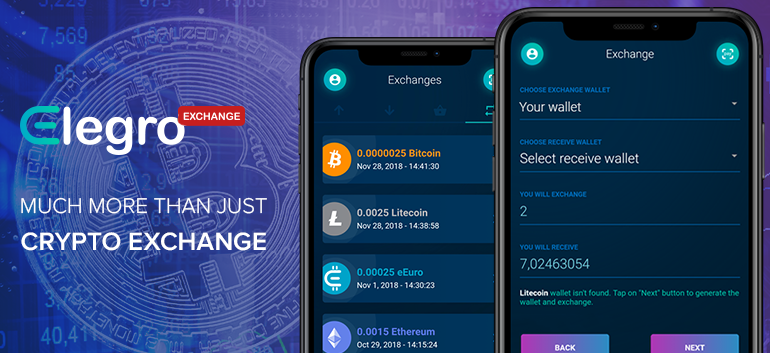 The crypto industry is developing at a high pace introducing diverse solutions to meet the needs of crypto owners. Still, one of the biggest questions is, where to exchange cryptocurrencies without spending much time, efforts and money.
To make life easier for users trying to transform crypto coins into cash (or the other way around), elegro team developed elegro Exchange. The solution allows to buy/sell crypto coins as quick and simple as one, two, and three.
From now on, elegro users don't need to shop around for a third-party exchange. It is in elegro Wallet. With our feature-packed crypto wallet you can seamlessly make exchanges between supported crypto and fiat currencies. The range of available currencies is constantly being expanded to enhance your exchange experience. elegro supports 4 the most widespread coins including Bitcoin, Litecoin, Ethereum and Dash. Verge is coming soon. All crypto coins are liquid and comply with the safety standards.
The whole exchange process is initiated and monitored directly at the wallet's interface. elegro Wallet is available in Web and App versions allowing to automatically swap currencies on any gadget.  
Benefits of exchange with elegro Wallet
One thing making elegro Wallet different from the rest is the opportunity to load and withdraw both fiat and crypto. This newly introduced feature makes wallet more versatile and useful than before providing its holders with greater payment options. Second, wallet owners can exchange not only crypto to crypto but crypto to fiat and back. Third, there are no fees for exchanges made with elegro Wallet. Fourth, all exchange transactions are processed within seconds and are extra safe.
What you need to make an exchange
To have the opportunity for making exchange you should get free elegro Wallet. Its Web version is available at out site elegro.io As well, you can download elegro Wallet App from Google Play or App Store. 
How to exchange with elegro Wallet
The procedure of exchange is straightforward due to intuitive UI.
And the opportunity to choose between deep skin and classic design of elegro Wallet App adds extra joy to exchanges.
To make an exchange:
Choose Exchange tab in

the left menu of your elegro Wallet.

Select the currency you are going to exchange and a currency you'd like to receive.

Specify the amount of coins for exchange. The amount of received currency will be generated automatically.

Choose a wallet to exchange and a wallet to receive funds.
After a successful transaction a message about it will appear on a screen. You can view all the exchange details on the Exchange tab.
elegro's offer for Institutional and Corporate clients
There is a special exchange option available only for big businesses and companies. It allows them to make wide exchange operations in a safe and regulated environment. To buy major cryptocurrencies paying in any local currency they should leave an email on our site. Soon, elegro Exchange Specialist will take over and does everything necessary to make exchange successfully and quickly.
elegro team is continuously working hard to introduce our users new features on our solutions. In so doing we pursue the goal to make our customers' payment experience much better ever before. Take advantage on elegro safe and guided payment environment to level up your business globally.