Why is financial compliance important?
ELEGRO Ecosystem
/ March 21, 2019 / Comments: 0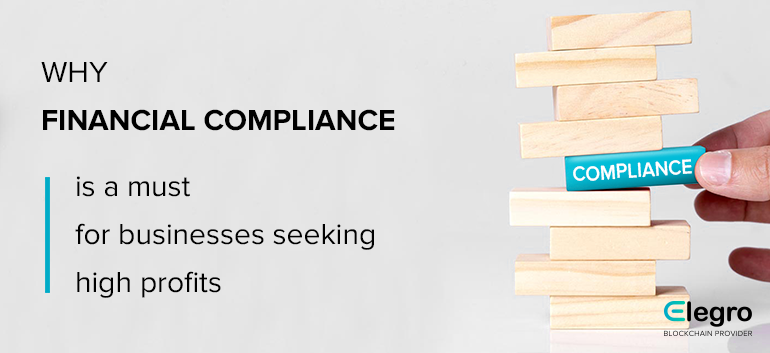 Financial compliance and risk management has become the cornerstone of banks, financial institutions, and businesses. Although market players differ in the way they run, they have one thing in common: compliance.
Those are present-day realities: any industry's obsession with compliance. That's quite understandable. Therefore, every brand holder tries best to "save face" and keep things going.
From time to time, some smaller banks and funding organizations try to avoid the costs associated with having a fully-featured compliance management system. However, the poor souls don't seem to know that the cost of non-compliance far outweighs the cost of an in-house financial compliance mechanism.
Why financial compliance is a must for funding companies?
The importance of financial compliance in the field of banking and payment processing is much bigger than in other industries. The reasons are:
Following the 2008 financial crisis, the government shows more interest in the activities of banks and financial institutions. The great men of state require ongoing statutory and regulatory compliance. As a result, every modern organization related to funding management and payment processing has to maintain a compliance management system to ensure the organization is up to date with regulatory requirements and "plays by the rules."

If a bank or financial institution is caught violating regulations, it can be the beginning of the end. Humongous fines, a real opportunity to get cut off from SWIFT, temporary suspension, permanent closure or even legal action make a list of what can happen to lawbreakers in case of non-compliance.

Neglecting regulations will 100% affect the company's brand reputation. Making matters worse, customers of funding companies are very sensitive to brand reputation. Well, of course, it's a question of their financial future! In this regard, non-compliance can easily result in "brand power" weakening = decrease in customers.
Robust compliance mechanism is a key to a hassle-free life
Captain Obvious says compliance is better than non-compliance. A robust financial compliance mechanism will definitely save a lot of money and nerves. No really, a financial institution can make it easy on itself by adopting the following practices:
Monitoring client activities. Funding institutions have to monitor transactions of their clients to make sure they(clients) are not adopting illegal activities and operating within the laws. Customer misbehavior could include tax evading, money laundering, or even terrorist financing. To cut the risks, banks have to closely monitor potential illegal activities and report them to avoid problems related to liability.

Improve communications between departments. For a financial institution, it is important to keep its departments informed about the latest guideline changes issued by regulators.

From time to time, the regulators require more information from the institution. With this in mind, the concerned departments need to be informed about the info required and the time frame for document preparation.

Follow up on compliance with operational requirements including:
Fees and Annual Percentage Rates (APRs) have to be within prescribed limits.

Disclosure of all relevant information to customers in a timely manner.

Advertising practices have to be within prescribed limits.

All documents have to be retained as per guidelines.

Keeping customers aware of their rights including refund opportunity.

Providing re-disclosures to customers in case of regulation changes.
All in one: business and financial compliance in elegro
elegro, the A-grade fund management solution developer, makes every effort to comply with existing regulations and meet its legal obligations. Thanks to our in-house compliance department, we do understand the reasons for the rules, laws and regulations that govern our business. This in turn helps us to you take advantage of the benefits they offer and ensure compliance.
As a financial institution, elegro has a bunch of rules to follow including compliance with the AML/CFT international policy, performing due diligence, compliance with the banking partners' policies, establishing Source Of Funds (SOF) and Source Of Wealth (SOW), risk assessment.
As a business related to unique software development, elegro holds the necessary business license and pays its taxes. Yep, a lot of things we do to keep up standards!