What if Famous Brands Support Crypto?
News
/ February 12, 2019 / Comments: 0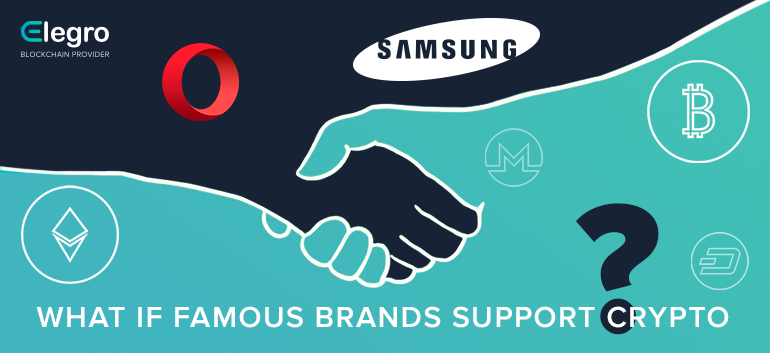 Though today cryptocurrencies have become a global phenomenon, most people still don't use them on everyday basis. It means that crypto hasn't achieved mass adoption. Will crypto coins finally become mainstream? And will famous companies help make that happen?
Most people tend to trust famous brands especially when it comes to such giants as Samsung, Apple or Google. Let's imagine that world-known companies would build in native support of main cryptocurrencies into their devices. As a result, a great audience of users would get a direct and simple access to cryptocurrencies.
Some famous brands have already started to support crypto. So, everyone has heard about HTC blockchain-enabled smartphone. Or Opera browser for Android supporting decentralized Ethereum-based applications and crypto wallet.
But soon even bigger player can enter the market — Samsung. It's long been rumoured that new smartphone Samsung Galaxy S10 will have built-in crypto wallet. Some screenshots with Samsung Blockchain KeyStore supporting Ethereum hit the web. Just imagine how many people could start using crypto on regular basis if the rumours turned out to be the truth.
The good news is, the smartphone presentation will take place in some days in San Francisco. So, it's not long before the truth comes out. It is obvious, that Samsung could greatly facilitate crypto adoption. The company has an immense user base and holds the first place by the volumes of smartphone supplies. Besides, there's a great possibility that other big companies would follow Samsung's trend.
But, maybe, the news about Galaxy S10 is spread to create a hype and photos on the web are fake. So, how about you? Would you like to have cryptocurrency supporting smartphone?