Top 5 Giant Blockchain-Oriented Banks
News
/ November 30, 2018 / Comments: 0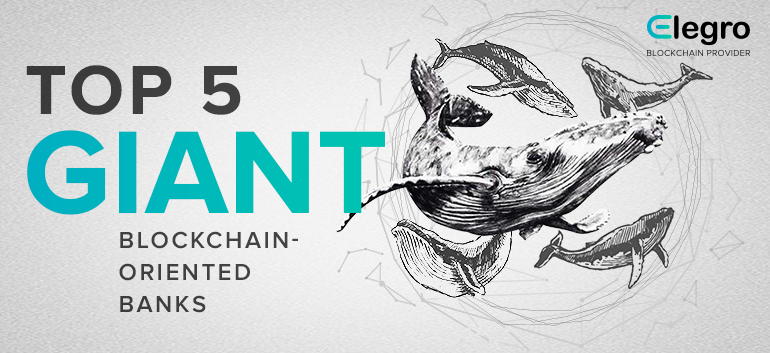 Blockchain technologies are rapidly developing causing more global companies to pay close attention to them. And big bank corporations are not the exception. They are actively patenting blockchain projects allocating more funds for blockchain technologies development. Let's take a look at the list of financial giants ready to take a risk and plunge into crypto space.
JPMorgan Chase
American financial holding has the capitalization of $387 billion. It is one of the biggest companies placing high priority on the blockchain development. Jamie Dimon, a head of corporation, believes in distributed ledger technology potential.
In 2017, JPMorgan together with Royal Bank of Canada and ANZ Banking Group conducted tests on a blockchain platform. The platform was introduced to reduce the time and expenditures on payment processing between banks. Lately, about 75 banks joined the project. To withstand competition the bank has recently invested huge sums on the blockchain technologies, artificial intelligence and cloud-based services research.
Wells Fargo
San Francisco-based bank holding is in the Top 10 largest world companies. It also shows great interest in blockchain. Till recently, the company was only looking into technologies. But this year, Wells Fargo decided to patent its own blockchain projects. This summer it forwarded an application to the Patent Office describing the blockchain-based system of data protection.
Bank of America
Bank of America, another giant bank, continues to place faith in cryptocurrencies. Moreover, it decided to create a corporate storage of cryptocurrencies. The patent it introduced this summer predicts great further cryptocurrency adoption.
According to its own research, the cryptocurrency market will grow up to $7 billion. In particular, company analyst believes that blockchain technology perfectly suits such global corporations as Microsoft and Amazon.
HSBC
In March, one of the biggest financial corporations HSBC declared the preparation to the series of experimental programmes. These blockchain-based projects will allow users to make direct transactions. The company said that it was actively working on the distributed ledger technology implementation for a long time. As a result, in November, HSBC and BNP Paribas launched a blockchain platform in Hong Kong. It is created to finance international trading operations.
Bank of China
In August, Bank of China with the capitalization of $158 billion, announced its expenditures increase on the blockchain research. It plans to spend on blockchain development over 1% of its annual income. Apart from DLT, the bank is also interested in artificial intelligence and cloud computing.
Bank of China has already patented 11 blockchain projects and many new ones are on the way. The company is going to improve the monitoring system to reduce financial risks with the help of blockchain.