Top 5 Crypto Wallets 2019
ELEGRO Ecosystem
/ March 28, 2019 / Comments: 0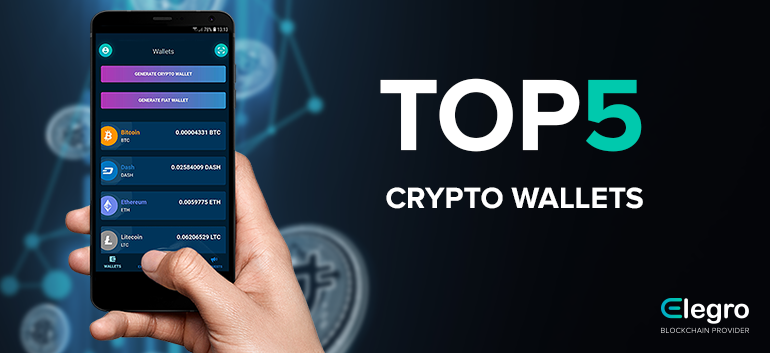 Everyone who invests in cryptocurrency needs a place to securely store, send and receive coins. A crypto wallet is just what you need to efficiently manage your digital assets. There are hundreds of crypto wallets available worldwide and each of them has both its advantages and weak points. No wonder that most crypto users usually find it difficult to choose a proper wallet matching all their crypto needs. However, to help you choose the best possible wallet, we've carefully studied users' feedback on a great number of wallets. Finally, we've selected 5 the best ones.
1. elegro Crypto Wallet
elegro is a multi-currency wallet for crypto/fiat fund management on a single platform. Available in app and web versions, it allows to securely store, instantly receive, send and exchange funds. The team of developers created this solution, first of all, to make crypto coins spending easy and comfortable. So, in most cases, all wallet operations come down to a single action.
elegro wallet supports all-the-legit coins (Bitcoin, Ethereum, Dash, Litecoin) along with a great number of widely-used regular currencies. Fiat currency support makes elegro crypto wallet very similar to a common e-wallet. Built-in coin purchase service enables secure and instant exchanges between major crypto and fiat currencies. SEPA/ACH and SWIFT transfers allow for quick and secure fiat funds sending and accepting. The wallet provides its holders with EU IBANs and VANs to load and withdraw funds directly to/from their bank accounts.
Web elegro wallet is accessible on the official website elegro.eu. Its app version you can download for free on Google Play or AppStore. elegro team is serious about users' security, so it tries hard to keep up with the top security standards. The latest blockchain and BioID technologies accompany the two-factor authentication cut fraud and identity theft risks. On top of that, all elegro services comply with the world's safety standards and have a license.
A user-friendly interface and attractive color scheme make the wallet's use really joyful and pleasant. elegro wallet is a perfect option for those who want to find an affordable, easier and more secure alternative to traditional bank services. Instant transactions, advanced security, business and personal accounts are those features which make elegro wallet a hit among global users.
Pros of the Crypto Wallet
Multi-currency support

Fiat and cryptocurrency support

Instant transactions

Two-factor authentication

Advanced security

Built-in exchange

A diverse choice of transfers (SEPA/ACH and SWIFT)

Available in app and web versions

Suitable for both beginners and advanced crypto users
Cons of the Crypto Wallet
A relatively small list of supported cryptocurrencies. The good news is, the list is going to be much longer.
ANDROID DOWNLOAD | iOS DOWNLOAD
2. Mycelium
Mycelium wallet, designed to store, send and trade Bitcoin, is a leading mobile crypto wallet app. The combination of enterprise-level security and other multiple features makes it really special. A team of hardware engineers created the wallet in 2008. Both Beginners and experienced users all over the world appreciate the Mycelium Wallet app.
Its single address accounts allow users to delete their private keys from a device. Thus, the wallet becomes inaccessible and funds get locked up. To regain access, users just need to import proper private keys back to their mobile device.
HD (Hierarchical Deterministic) wallet accounts allow to derive future bitcoin addresses in order to restore a wallet. Bit ID is an open source protocol making the authentication process safer. Also, Mycelium wallet allows users to store funds using a hardware device. In other words, you can use the wallet with drives like Ledger Nano S. "Watch Only" accounts allow only to watch the outputs without any possibility to send from the wallet. This feature is perfect for those who want to stock a wallet and keep track of outgoing transactions.
You can use Mycelium for both Android and IOS mobile devices. It can be downloaded for free from the official website, Google Play or AppStore.
The wallet was created, first of all, to provide users with a safe and secure storage for their crypto funds. To gain the utmost security level, Mycelium team implements the most recent security protocols and tries hard to guarantee fund safety to users. PIN codes for wallet access and other services, HD technology and watch-only accounts stand for better app security.
Pros of the Crypto Wallet
Utmost security and privacy

Integration with hardware wallets (TREZOR, Ledger)

Offers 5 account types (

HD, Bit ID, Single Address Accounts, Watch-Only Accounts, Hardware (for offline devices))

Open source solution
Cons of the Crypto Wallet
Supports only Bitcoin

Has only app version

Can be difficult for beginners
3. Armory Crypto Wallet
Armory is an open-source Bitcoin wallet which provides a cold storage and multi-signature support. The wallet is famous for its advanced security features and user-friendly interface. Possibility to setup multiple addresses and cold storage support make wallet rather popular with the crypto community.
The wallet is written in Python. It means that it is an open-source solution and can be used as a platform for developing other Bitcoin apps. Multi-signature support and decentralized lockboxes presuppose that only the user is in control of the generation and storing of wallet's keys. To transfer funds, users should use passwords which add extra security. The company spent "centuries" to gain high-level encryption method and ensure advanced security for users' funds.
The wallet is free to install and use. To get Armory, you should access the official website and choose the app compatible with your operating system. The wallet runs on Windows, Mac OS X and Linux systems.
On the other hand, the installation process is quite long and takes up to several days as full blockchain on Bitcoin core needs to be downloaded. Besides, Armory wallet takes much memory space. So, users should have some free space on their PC hard drives.
Another Armory feature worth mentioning is that you can build a secure offline Bitcoin wallet. Thus, you can manage your wallet without internet connection. Its private key data are stored on the offline computer reducing hacking risks in such a way.
Pros of the Crypto Wallet
Advanced security features

Open source

Cold storage to manage funds offline
Cons of the Crypto Wallet
Memory-consuming software

No app version

Sometimes works slowly
4. Bitpay
BitPay wallet was released in 2016 and is built on top of the Copay platform. Many users have chosen it as a convenient way to buy, convert and spend Bitcoin. BitPay works across multiple platforms and operating systems. It can be used for desktops and mobile devices and is available for Android, IOS, Windows, Linux, and MacOs. Wallet owners can buy Bitcoin through the Gildera platform directly from the wallet. Using the BitPay wallet solution, users can also manage their BitPay Visa debit cards.
Highly secure and design-wise BitPay wallet is convenient for both novice and experienced users. Though not everyone is happy with its color scheme, all the information on the wallet is available in a clear manner.
Pros of the Crypto Wallet
Available for major mobile and desktop platforms

Recommended for bitcoin beginners

Instant bitcoin payments

Possibility to store Bitcoin on several wallets
Cons of the Crypto Wallet
Supports only Bitcoin, Bitcoin Cash

Design is far from perfect
5. Electrum
Electrum is a lightweight Bitcoin wallet developed by a German computer scientist in 2011. It is one of the oldest crypto wallets: thousands of people use Electrum wallet all round the world. It is estimated that about 10% of all bitcoin transactions occur on Electrum.
This wallet has a desktop version for different platforms (Windows, Mac, Linux). Also, it has a free mobile app available on the official website.
Electrum belongs to so-called "light" wallets. It means that it doesn't download the whole currency blockchain. But uses only the files necessary to make transactions. Other unimportant blockchain data are kept on third-party servers.
Pros of the Crypto Wallet
Fast and easy to set up

Integration with hardware wallets (TREZOR, KeepKey, Ledger Nano 5)

Widely used platform

Advanced privacy level
Cons of the Crypto Wallet
Quite difficult for beginners

Supports only Bitcoin

Has no built-in exchange
Conclusion
No doubt, there are many more excellent wallets, but these are supposed to be the best on the market right now. One way or another, when choosing a proper wallet, you should clearly understand your crypto needs. All in all, there's no "one size fits all" wallet. Some wallets place emphasis on security matters while others are focused on multiple features delivery and ease of use. If you have something to add on the issue, don't hesitate to leave your comments below.
---
All the materials our blog holds have been prepared for general informational purposes only and are not intended to be relied upon as accounting, tax or other professional advice. For business-specific recommendations, please refer to your advisors.