The Yellow Vests Launch their Own Cryptocurrency
News
/ December 17, 2018 / Comments: 0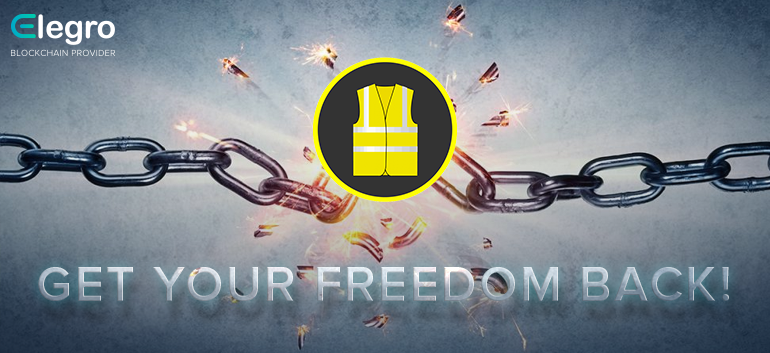 The world holds its breath in view of the Yellow Vests movement's protests in France. Protest demonstrations flooded the whole country expanding into neighbouring countries such as Belgium and Germany.
The movement initially started in online form which eventually gave birth to demonstrations in the street. Rising of fuel prices triggered demonstrations and protests. In fact, the French got a full pack of reasons to protest. So they demand the minimum salary increase and the resignation of Emmanuel Macron. Yellow vests worn by French motorists have become a symbol of global protests.
The Yellow Vests' cryptocurrency
The Yellow Vests (Gilets Jaunes) movement has launched its own cryptocurrency. The GiletJauneCoin (GJCO) was created to help yellow jackets to get rid of the financial control of government and central bank.
The coin has its own website with the slogan: "Get Your Freedom Back!" The site explains the main concept of GJCO, "Easy to use, the GiletJauneCoin (GJCO) is perfect for transactions between yellow vest citizens, or people who want to support the legitimate battle against European oligarchy. By providing the necessary infrastructure for a massive use of the GJCO, we are helping yellow jackets around the world to create a parallel economic system during this struggle for freedom."
The website reinforces the Yellow Vests' mottos claiming that the movement initiated by rebellious and courageous French would "end only with the complete overhaul" of social and economic institutions.
A genuine coin or a fake?
Still, we should bear in mind that it is doubtful whether the GJCO coin is legitimate. And it is unclear why to use this token lacking real value instead of any other cryptocurrency. Above all, no one knows who stands behind that new project. May be, it is just another scam coin created to make a profit on a hot topic. One way or another, only the time can reveal the truth behind GJCO.