SWIFT transfers for Certified Coins are ready to go
Announcements
/ July 1, 2019 / Comments: 0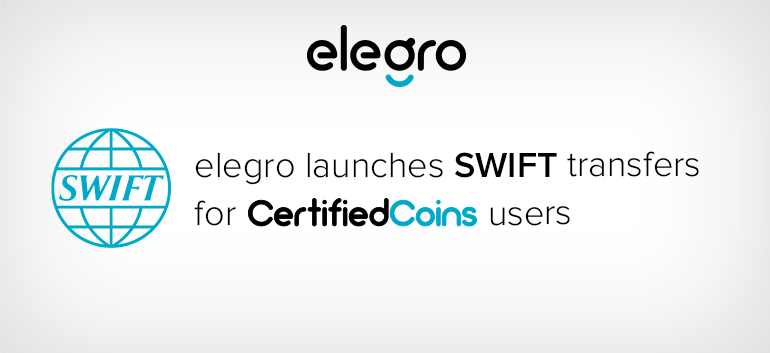 Tallinn, Estonia – July 1, 2019 – elegro, a regulated Estonian FinTech payment solutions developer offering products to individuals and businesses interested in buying cryptocurrencies, today announced the launch of SWIFT transfers for its Certified Coins service.
Individuals using the Certified Coins service will now be able to buy crypto coins in 53 countries worldwide. The option is available via SWIFT transfers in more than 35 local currencies.
SWIFT is the global standard for international money transfer. The SWIFT network provides a reliable connection to local banks across the globe in order to move funds without setbacks.
"Adding SWIFT is an important milestone to allow Certified Coins users to deposit their funds in a secure and cost-efficient way. Firstly, we created a unique and safe customer-focused exchange service that meets all regulatory requirements our clients may think about. SWIFT wires are helping us to grow fast while maintaining the highest standards."

Timm Schneider, CEO of elegro.
About SWIFT
The Society for Worldwide Interbank Financial Telecommunication (SWIFT) is a financial organization with headquarters in Belgium that supports bank transfers around the globe. It is a cooperative entity that includes more than 11 000 institutions.
As a payment method, SWIFT is popular among exchange services providers as it supports most of the world's currencies.
About elegro's Certified Coins
The team of professional developers created the Certified Coins solution with easy yet secure crypto purchases in mind. It allows individuals to buy Bitcoin, Ethereum, and Litecoin with fiat currencies via international wire transfers. Clients can use the service after completing their profiles and passing elegro's KYC.

Each order is legally backed by a contract and elegro issues a certificate that proves the legal origin of digital funds. elegro is also adding Bitcoin Cash to their list soon.