Meet the Richest Criminals in History
News
/ December 10, 2018 / Comments: 0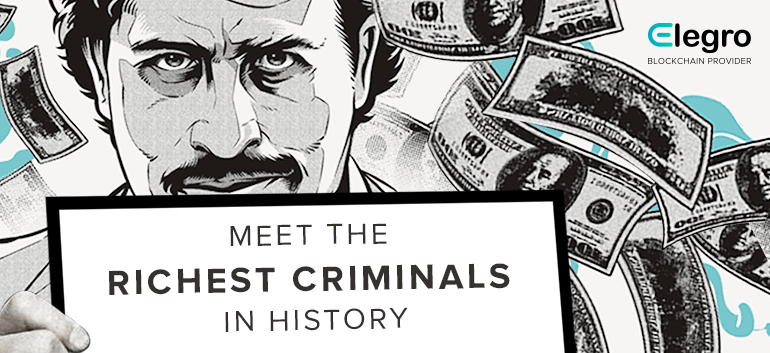 People with integrity and morality are sure education, determination and drive are the keys to become wealthy. Actually, successful people like Bill Gates and Mark Zuckerberg chose that road full of hard work and difficulties to earn big money. Still, there are enough those who took easier road of crime. Robbing, fooling, even killing decent folks and not paying taxes, they managed to make a fortune. In this article, we are going to tell you about world's richest criminals. They got rich illegally. And the worst thing is that they were even proud of that.
For our part, we recommend you the legal way to become rich. Still, evil genius of those "bloody millionaires" is also worth attention.
Meyer Lansky, profit: $600 million
Meyer is more known under the nickname "Mob's Accountant". He made his millions in the 30s on illegal gambling rings. He wasn't in a good relationship with the IRS and cooperated with the most powerful mobsters in the world. Though he died 30 years ago, they say he still owns millions hidden somewhere. Lansky was the money manager and boss of childhood pals Bugsy Siegel for about 50 years.
Anthony Salerno, profit: $600 million
Being rather stout, Salerno received the nickname "Fat Tony". His image is inseparable from fedora hat he always wore and a cigar he often smoke. Salerno started his criminal life gambling and working as a loan shark. Finally, he found himself in the role of Genovese crime family boss. Fat Tony is acknowledged worldwide as the most powerful and wealthiest gangster in America. His name is associated with dozens of murders and racketeering.
Al Capone, profit: $1,3 billion
Al Capone, known as original untouchable, made a fortune on bootlegging, mainly in the Chicago area. He finished his criminal career being arrested for tax evasion. Al Capone is famous for his generosity: he contributed great sums of money for charity. Still, we shouldn't forget about thousands of people who died because of his criminal activities.
Thomas Blood, profit: $32 billion
Born in Ireland, Thomas Blood was one of the richest crooks ever lived. In 1671, he made friends with Tower of London workers by pretending to be a parson. Finally, he chose a right time, stunned the keeper of the Crown Jewels and ran away with the crown. King Charles II was so charmed with Thomas' audacity that he forgave his sins and even presented him property in Ireland. All's well that ends well!
Pablo Emilio Escobar, profit: $122 billion
Escobar was born in Colombia, had a family and worked hard to sell drugs round the world. Pablo is considered to be one of the most merciless and successful drug dealers of all time. Nearly 80% of all the cocaine smuggled into the USA was on his shoulders. When it comes to cocaine, he is second to none. In 1995, he was shot dead by Colombian National Police, when he was trying to escape.
It's a great relief for the society that all those bad guys went away. Now, here's the question: how much Bitcoins they would have if they live these days?