JPM Coin: JPMorgan's Jump into Crypto
News
/ February 15, 2019 / Comments: 0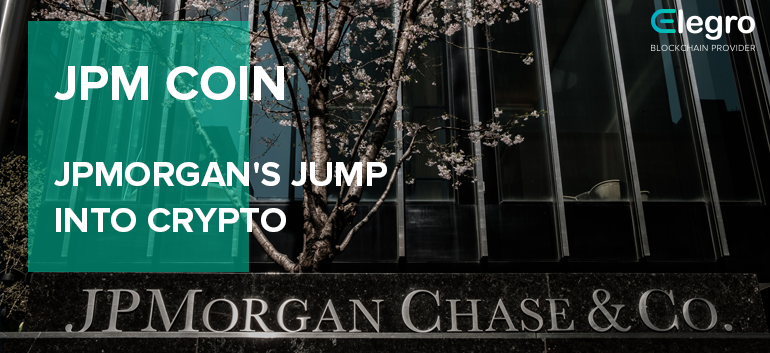 The US-based bank, JPMorgan Chase has just introduced its own cryptocurrency, JPM Coin. The institution also revealed the plans to run tests on the coin which came as a surprise to many. Earlier, Jamie Dimon, JPMorgan's CEO, seemed to have anti-crypto views. He publicly called Bitcoin and other coins "soap bubbles" associated with fraud.
By launching JPM Coin, the bank acknowledged cryptocurrency potential on the global scene. The New York Times explains JPMorgan's going into crypto with its clients' requests. Above all, they "engaged us [JPMorgan], saying they need a way to move money onto the blockchain." Notably, the bank has recently released a blockchain platform, Quorum, and some institutions are using it to monitor financial data.
Is JPM Coin a Real Crypto Coin
Many doubt whether bank-supported JPMorgan's token is a real crypto coin. They think it lacks main qualities characteristic to crypto being bank-regulated and dependant on middlemen.
JPMorgan will fully control the coins and keep them with dollars in banks' accounts. Therefore, the institution will give its cryptocurrency a stable value. It means that JPM Coin will not be subject to volatility.
Initially, it will not be possible to use JPM Coins outside JPMorgan's system. As yet, the company is just testing the coins and clients can't use it.
The main aim of Coin introduction is to help big corporate customers to transfer money quickly and securely. So, to move dollars via the bank's blockchain system, a client first needs to convert money to USD-backed JPM Coins. Then, it will be possible to quickly transfer funds on the coin's ledger. As soon as the client makes the transfer, the solution converts coins back to dollars.
Comparing to traditional bank transfers taking a day or some, JPM Coin will allow to transfer funds almost instantly. And the fees will be much lower. Still, JPMorgan's CEO warns that they created blockchain-based transfers only for institutional clients, not for a broad lay public. The bank plans to increase its coin's versatility. In future, the coin could be expanded to represent multiple currencies, not only the US dollar. As well, JPMorgan wants to work with regulators to provide wider uses of JPM Coin.
JPMorgan's launch of its own coin shows that cryptocurrency has started to gain greater popularity with traditional financial institutions.