How (and why) to accept crypto at a brick-and-mortar shop?
ELEGRO Ecosystem
/ April 16, 2019 / Comments: 0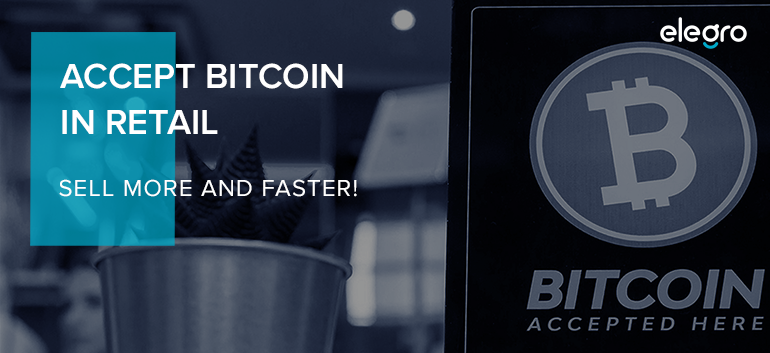 Let us ask you a question, folks. How do you like the idea of selling things at your "offline" shop for crypto coins? Bet you would give it a try! A real opportunity to spend and accept crypto at a brick-and-mortar shop looks tempting, indeed.
This time we're going to figure out what are those goodies cryptocurrency adoption offers to retailers and shoppers.
We hasten to add, accepting Bitcoin and other coins in retail only means offering a promising alternative to traditional payment methods. Even if you are fond of accepting payments from clients in the "old-school" way, there's always room for new technologies in your business.
So, how (and why) accept crypto at a brick-and-mortar shop? Before answering this question, let's take a look at some data from the U.K.
"Crypto spending:" a new trend 75% of coin owners would follow
According to a survey,published by British crypto enthusiasts, present-day merchants should think about accepting Bitcoin, Ethereum, Litecoin, and other cryptocurrencies as full-on money. The reason is, consumers owning crypto got ripe for spending their digital savings!
The survey shows that 75% of people holding coins would gladly spend some of their P2P cash in POS transactions if they could.
However, most amazing of all, 80% of respondents didn't even realize they could use cryptocurrency for buying things and services. On the other hand, a great many people still think of popular digital coins as assets for investment. As a result, they don't rush to use digital funds, hoping to make more money on selling coins after a while. Oh well, some need more time to get used to "reality upgrades."
The good news is, "crypto spending," a new consumption trend, has every chance to get global.
Why accept crypto at a brick-and-mortar shop?
Now, let's get back to your shop and see if there's a way to make your business even more customer-friendly and profitable. In the light of prospects cryptocurrencies offer, it's safe to say that accepting crypto is a good choice. Here's why:
The ability to attract more clients.
Appealing to cryptocurrency owners willing to spend some of their funds is a smart way for regular shop owners to cover a new segment of consumers. In this regard, to accept crypto at a brick-and-mortar shop = boost sales = get more money.
No chargebacks
Hope there's no need to explain that chargebacks are retailers' greatest nightmare. Also, chargeback disputes are often decided in the consumers' favor of customers. That, in turn, discourages retailers challenging many cases.
Crypto payments can help solve that chargeback issue. As soon as cryptocurrencies rely on blockchain technologies, they remove third parties capable of interfering and reversing the payments. So, accepting crypto = no chargebacks = less trouble for merchants.
Quicker and cheaper deals
As mentioned above, crypto payments get direct and need no mediators. What does it mean for your business? Quicker and cheaper deals, of course! Usually, mediators (banks, financial institutions) charge fees for fund processing. The longer the transaction chain is, the more expensive it gets.
Now, accepting crypto in your "offline" shop stands for private payments and allows you to get funds for purchases directly from your clients. So what then is a point to pay extra?
How to accept crypto at a brick-and-mortar shop?
Suppose you are ready to say yes to cryptocurrencies but don't want to dramatically change your business model and give up accepting good old fiat at your shop. Let's see how can you accept Bitcoin offline AND retain clients paying with "orthodox" cash.
We at elegro fully realize that transformation can be painful for merchants dealing with customers who prefer to pay in cash or with cards. On the other hand, we do understand that keeping up with the latest technological trends is your way to prosperity. Quite a challenge, indeed!
To make life easier for merchants dreaming about global markets, we have developed a self-contained ecosystem that offers new-age solutions for cost-efficient international payments. One of them is elegro Retail, a unique software piece that turns NFC-enabled mobile platforms into fully-featured Points-of-Sales. Even if there's no chance to rely on Near Field Communication (NFC), you can easily switch to QR-based payments. Whatever the option, shoppers will enjoy instant purchases paying with the assets they choose.
Another pleasant thing is that accepting coins offline with the elegro's retail solution doesn't require merchants to be crypto trading-savvy. No really, why should you deal with third-party cryptocurrency traders if there's an option to get paid in bitcoins and withdraw automagically converted to local currency? That's right! You can do that with elegro.
Need more features? Here you go:
Real-time crypto payments for flat fees = no losses caused by volatility.

Direct client-to-merchant payments = cost-efficient payments & lower processing fees.

BioSecure payments = no fraud and identity theft.
So, how about to say YES to revolutionized payment strategy and accept crypto at your brick-and-mortar shop? The future of the retail industry is clear now: payments in crypto are here to stay.
---
All the materials our blog holds have been prepared for general informational purposes only and are not intended to be relied upon as accounting, tax or other professional advice. For business-specific recommendations, please refer to your advisors.