elegro is accepting Visa/Mastercard as a payment method
Announcements
/ September 24, 2019 / Comments: 0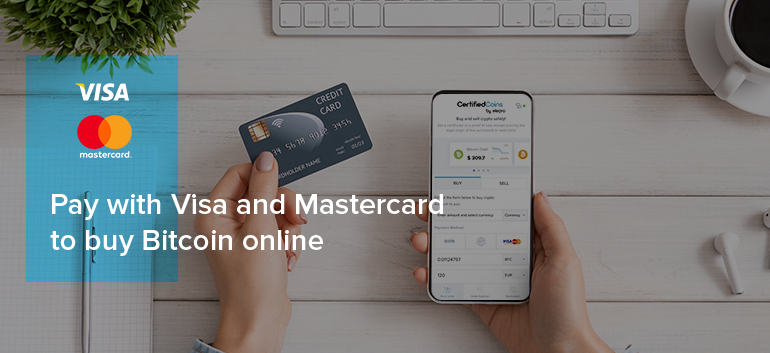 Hi, folks! We are here to give you the big news: Certified Coins by elegro is now accepting Visa/Mastercard as a payment method through Simplex, our official partner. Therefore, the innovation allows you to buy crypto coins as easy as buying stuff at online stores.
From now on, Certified Coins users will be able to use VISA/Mastercard credit cards to purchase Bitcoin, Ethereum, Litecoin, and Bitcoin Cash for EUR or USD.
Considering the fact that the majority of people feel more comfortable paying with credit cards when purchasing goods and services online, we decided to expand our payment methods to fit better our clients' needs.
These days, we at Certified Coins offer two reliable ways to buy Bitcoin and altcoins:
with SEPA, SWIFT transfers;
with Visa/Mastercard USD/EUR cards.
We do our best to let you get the best experience with cryptocurrency. Therefore, accepting Visa/Mastercard as a payment method is an essential step toward that goal.
About Certified Coins
Certified Coins is a web service designed with enhanced security in mind for smooth crypto-to-fiat and fiat-to-crypto exchanges. Above all, a contract with a regulated company backs each conversion. Upon the exchange, service users get legal documents proving the origin of the obtained funds. To date, the web exchanger offers the safest way to purchase Bitcoin, Ethereum, Bitcoin Cash, and Litecoin.
About Simplex Payment Method
Simplex is a financial institution that has an EU license and aims to create a virtual fraud-resistant payment processing environment. The company allows business owners and consumers worldwide to use the advantage of various payment methods such as credit card deposits, with no risks of chargebacks, fraud, and ID theft. New elegro's partner also operates a secure escrow service for large fiat-to-crypto payments.