elegro 24/7 Customer Support: Real-Time Assistance
ELEGRO Ecosystem
/ February 7, 2019 / Comments: 0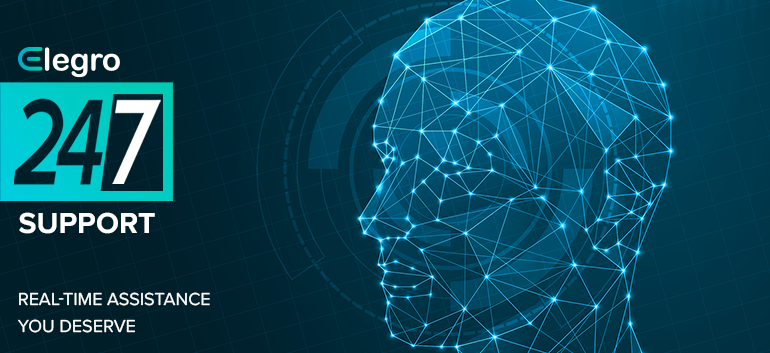 "We not only give a lightning-fast response, but, first of all, we provide our customers with actual help and resolution." – Head of Customer Support
elegro's in-house Support is a comprehensive customer-driven service available 24/7. The expert Support Staff are always on the deck to quickly identify root causes and recommend the best solutions. Our customers really enjoy complete support they get with the high-Q payments solutions.
To fully attend to all clients needs, our Support Department is divided into Tech Support and Product Support divisions. If a technical problem such as installation issues, login errors, etc. arises, and you can't use our products efficiently, contact our Tech Support. In case you have questions about your accounts, registration, payment matters, reach our Product Support to get prompt assistance.
24/7 Customer Support
The main aims of our 24/7 Support are:
To serve customers without delays whenever they need help.

To provide high-quality swift resolving of our customers' issues,

queries and complaints.
We don't allow any hindrances like geographical boundaries or time zones to come in between provision of support. We don't use any robots or canned responses. Our Support Team includes well-trained professionals. elegro is sure that no chatbots can substitute human presence and guidance. When it comes to solving issues, people find it unpleasant and feel uncomfortable relying on machines. Of course, automated Customer Support could save such precious resources as time and money. But we prefer not to scrimp on our customers' convenience and delight.
To provide well-rounded assistance, elegro has a wide range of tools. 24/7 Live Chat on our website offers real-time online customer support. Ensuring continuous accessibility and immediate guidance, it is in high demand with elegro clients. The customers can also reach us on the phone, by email or via Contact Form available on our site. As well, there's a Customer Support Channel on Telegram. To get round-the-clock support there, sign up to our elegro Financial Services channel. And all your questions will be answered within seconds.
We place our clients at the heart of everything we do, and help them to get the most of our products. Your success is our success. But enough talk for now. Contact us and check the quality of elegro Customer Support yourself!