E-commerce 2019: Overview of Dominating Trends
E-commerce
/ November 7, 2018 / Comments: 0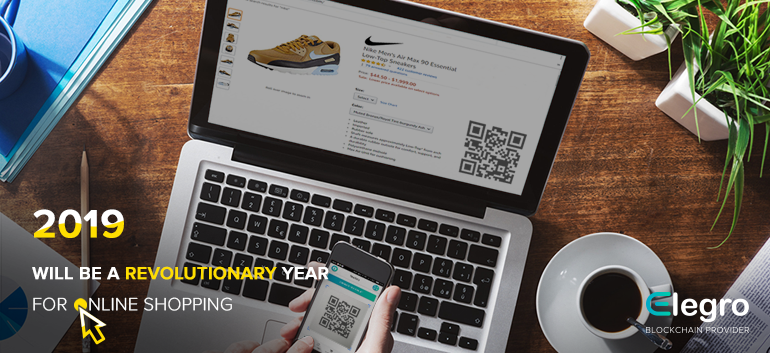 In recent years, online shopping has become very popular among different social groups. More and more people round the world prefer it to traditional shopping. The reason is, buying things on the Internet is full of benefits. Shoppers can purchase anything online including clothes, foods, gems, tickets and even order specific services.
The main pro of the Internet shopping is that users can go shopping without leaving their homes. As for purchases, there's a whole bunch of services delivering them right to the doorstep.
Following the globalization and technologies development trends, many industries had to accept the changes to keep being competitive. These days, almost every brand has its own selling site and does its best to make checkouts smooth, payments faster.
Let's check out main e-commerce trends which are likely to prevail in 2019.
Personalization
To meet the tastes and needs of customers, sellers are constantly seeking the best options to offer. Since many modern shops prefer to deal with digital shop-assistants, merchants use technologies to replace human help. Thus, many companies have already integrated artificial intelligence and machine learning into e-commerce. For example, some companies use facial recognition platforms to identify their customers. The recognition of the shoppers' faces serves for customizing their purchasing needs and improve shopping experience.
Augmented reality
Augmented reality which is often associated with video games can be as well used for online shopping. So, Magnolia Market, a furniture company, uses AR to show customers how their furniture would look at their homes. Using a mobile app, shoppers can see through their cameras if the furniture they are going to buy would really suit their flats.
Chatbots
For e-commerce merchants, chatbots make a healthy alternative to physical online shopping assistance. This technology realizes the communication function between a customer and a company. Thanks to chatbots, shoppers can ask questions and get answers instantly. In general, bots can handle many tasks: some answer questions, some make suggestions and others can help with checkout. For sure, chatbots are becoming key players for online shopping.
Cryptocurrency payments
Over recent years, cryptocurrencies and blockchain solutions have increasingly gained attention in the world of e-commerce. Many online stores have already accepted cryptocurrencies as a reliable payment method. As a result, numerous crypto payment solution providers have evolved to meet the growing needs of making blockchain transactions. In this respect, elegro ecosystem formed with a series of proprietary products deserves to be highlighted.
The suite itself includes elegro Gateway, elegro Wallet, elegro Wires, elegro Exchange and elegro Retail solutions. A business-friendly ecosystem offers merchants and its customers new ways to manage their funds. Using elegro Gateway in combination with elegro Wallet, merchants can accept instant and secure crypto payments with 0% volatility guarantee. One of the most important things is, store owners can accept payments in crypto coins and withdraw good old cash. There's no need to exchange money elsewhere!
Low payment processing fees, no exchange fees, the use of BioID technologies for transaction verifications make crypto payments really enjoyable.
Well, according to prognosis, in 2019, cryptocurrency payments will only strengthen their positions in e-commerce.
Social media shopping
Mobile devices in conjunction with social media provide great opportunities for online shopping. Social networks such as Facebook and Instagram enable their users to shop through their platforms. For instance, Instagram allows to tag direct product links in posts.
Besides, overwhelming majority of companies use social media to advertise their products and services. So, a company with no Facebook or Instagram account perceived as a slow coach. Сompany accounts themselves serve as reliable promotion tools.
A great variety of rising online shopping trends is just another reminder of e-commerce rapid development. And trading companies have nothing to do but to keep up with the latest online shopping innovations to keep things going.