Dud Xmas tips: how to ruin the sales season
E-commerce
/ December 18, 2018 / Comments: 0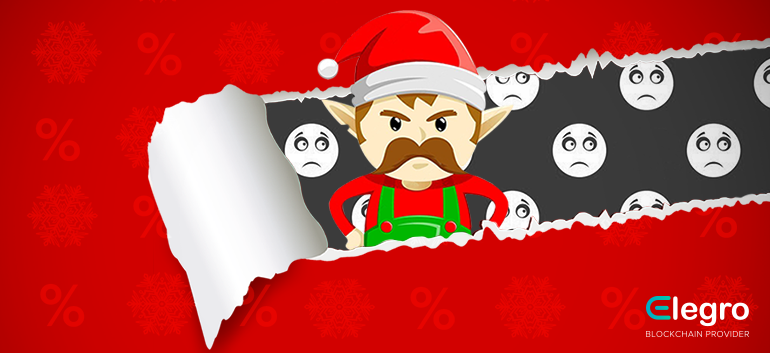 "The difference between "try" and "triumph" is just a little "umph.""
Bonnie Przybylski, Projects Manager W.R. Grace
HO HO HO, it's Christmas (well, almost)! In six days the real fun begins. Just imagine all those people overwhelmed by their Christmas-gift-buying mania. Quite a dramatic picture, isn't it? The good news is, you have the choice to get your head into the fuss or wait out the storm in a company of dearest & nearest. Right-O, you deserve a vacation!
To shut the door to the Xmas Sales 2018, there's nothing better than a store closed. However, if it's not an option, you can follow these steps to get rid of that pain in the… neck.
Create a S.M.A.R.T goal: No Xmas Sales!
Goals are those pesky things that keep you busy. Improving, growing, learning, pfft! You've had enough of that stuff, haven't you?
One of the most annoying things is creating a S.M.A.R.T goal which stands for making Specific, Measurable, Achievable, Relevant & Time-based plans. Some would say, the best S.M.A.R.T goal for you is to make some REAL money by the end of the year. No way! "No Xmas Sales" sounds less alarming.
Custom packaging? Your brand is good the way it is!
They say, custom product packages can make your brand more attractive and boost sales. Well, that's probably right as packaging is the only thing that reaches 100% of your clients. To make Christmas more "customer-friendly," you might try to design a set of Xmas-inspired themes. Just to make your products look a bit more presentable.
On the other hand, why should you bother with spending money on a mere trifle? Your brand is good the way it is. So "Take it as is or Leave it" concept works better.
Emotional marketing? Naah…
How about to put some bright emotions into your Christmas marketing? Tell a nice story instead of providing a standard list of brand features? In other words, emotions can build a desire to products you offer. Sharing corporate videos demonstrating the way you celebrate can definitely promote your company's image.
Hang on, though. Your emotions make a sort of your non-physical property! There's no need to waste it, keep it to your family and friends.
Best of all, don't follow dud tips
As you might guess, this story is all topsy-turvy. Surprise! Sure thing, creating S.M.A.R.T goals, custom packaging and putting emotions into the Christmas marketing make smart solutions for your business. There's just one more tip we'd like to share with you: take good care of your customers. People buying things from you offer the surest way to success. Their wishes provide the greatest clues.
"Ask your customers to be part of the solution, and don't view them as part of the problem."
Alan Weiss, Author "Million Dollar Consulting"