Cyber Monday 2018: Get Set!
E-commerce
/ November 23, 2018 / Comments: 0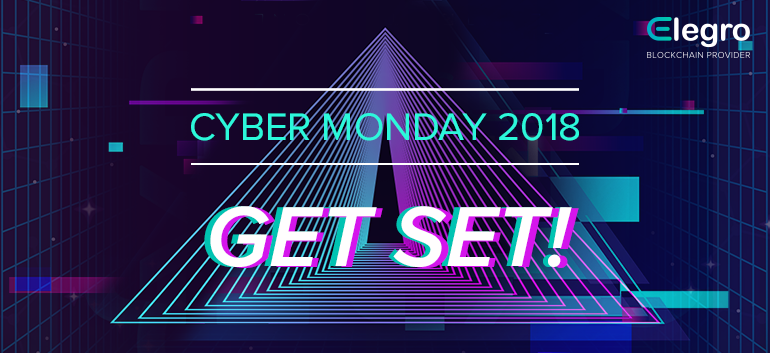 Black Friday is here! Everybody just loves that blissful time full of cheery commercial excess, drop dead gorgeous deals and huge profits. And the best part is, Black Friday marks the beginning of the holiday season for merchants and shopping fans. The Christmas sales lie ahead.
On the other hand, there's no need to wait long as Black Friday has the-same-awesome sibling: Cyber Monday. Adopted by the National Retail Federation in 2005, Cyber Monday has become one of the greatest days for ecommerce businesses. Following its "sister," that Lucky Shopping Day 2 is a real boon for those users who are still in "shopping mode."
Online merchants in turn get a great chance to benefit from that shopping rush. To make it happen, Elegro team offers a set of tips on how to make the most of Cyber Monday. Dig in!
Drive traffic to your site
First of all, it would be very wise of you to let people know about your consumer holiday deals. So, you need to get visitors (aka potential customers) to your online store. Here are some ideas you can easily implement to make a good start:
Sensible Ad Campaign. A highly targeted ad campaign is a good solution to highlight your business or specific products people would definitely like. In addition, you have an opportunity to get a closer look the way Google Adwords work.

Affiliate Marketing Program. A relatively simple move that allows to submit your ecommerce platform to a whole bunch of affiliates. For a certain monetary compensation, those guys will promote your online store (along with the offers you have).

Mailout. Sending newsletters (not spamming!) that contain info about your upcoming Cyber Monday deals is a great idea. Your existing customers could get such a notification a day or two before Black Friday. That will make them ready for the "round two."
Get the best chance to make a first impression
Put specific products into target. Sounds complex, eh? Still, that only means you can attract customer attention by creating "Specially For" merchandise collection. For instance, Products for Kids, Stuff for Him/Her, etc. can increase your store's value. Moreover, they will definitely give site visitors a reason to take a peek into your product catalogue.

Promote your products by adding value. According to the recent studies, small promotions such as free gifts and discount certificates help to convert visitors into customers. In fact, a material reward is often seen as a pleasant surprise that is added to a purchase. With this in mind, you can build traffic to your web store by offering small gifts to visitors.
Stay in touch with customers
In most cases, happy customers are repeating customers. Even if you have no special offers, you can count on them. So, it's very important to find a way to "turn up the thermostat" when it comes to customer emotions. Here's how you can do it:
Ask for feedback at checkout. Create a Thank You page and send confirmation emails to ask for referrals.

Send follow up emails in a week or so after the order was successfully shipped. Don't forget to include gift certificates or coupon codes your customers could use next time. Such an approach will allow you to thank customers and offer them offering the best shopping experience.
Every single point mentioned above has enough power to contribute greatly to your returns for Cyber Monday sales. Still, creating an efficient combo of strategies that works for your specific business will be the best decision. Anyway, you'd better come up with great ideas as Cyber Monday is almost here. Get ready, get set…