Crypto marketplaces that "swim naked"
News
/ February 6, 2019 / Comments: 0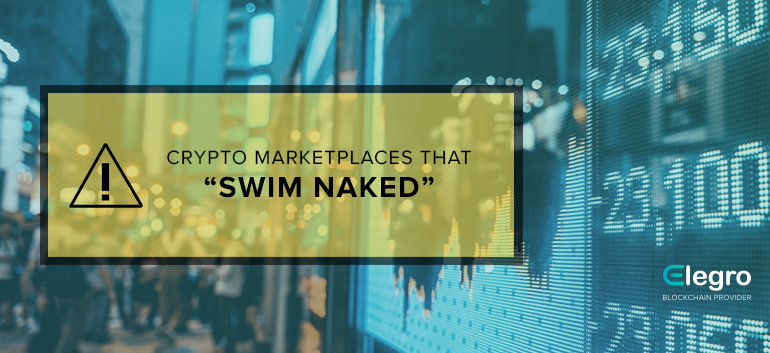 Warren Buffett, a business magnate, investor and philanthropist, once said : "You only find out who is swimming naked when the tide goes out." That's a good maxim worth bearing in mind, indeed. The central message is, no one really knows or appreciates the risks that crypto marketplaces are taking until they are tested by poor conditions.
No one of crypto marketplaces is immune to the industry slump
Shoot happens even to the crypto marketplaces that were considered rock-solid and "unsinkable." C'est la vie. This is especially true for large crypto platforms dealing with "unstable" assets.
It is recognized that 2018 was a difficult year for the crypto industry. Frankly, for a bunch of marketplaces, it was full of frustration. In this piece, we give you only a few of those cases that shocked the crypto space.
Cryptopia, New Zealand
Now, this crypto exchange provides a good example of how you can lose all your coins due to poor security. Early in 2019, the platform was hacked twice! In both cases, it took days for crooks to rip off helpless wallets. As for Cryptopia's security team, the guys failed to take steps to prevent robbery. Well, what can we say? It's obvious that Cryptopia isn't the best partner for cryptocurrency owners interested in efficient fund management.
Cobinhood, Taiwan
In 2017, the exchange platform team raised more than $15M making too-good-to-be-true promises they couldn't keep. As a result, gullible investors fell victims to a classy pump & dump scheme. During the token sale, the asset price grew forty-fold. Shortly thereafter, the price dropped one-hundred-fold. These days, COB token is 80% cheaper in comparison with its initial price. Nuff said.
Paxful, USA
One of the P2P Bitcoin crypto marketplaces that connects buyers with sellers. There are reports that Paxful guys are "light-fingered" and pick their clients' pockets from time to time. Not the best feedback record for a company making business in field of crypto finance, eh?
BitGrail, Italy
Not so long ago, the crypto exchange platform informed the community about the theft of 17 million XRB tokens. Due to a series of "unconfirmed transactions" the amount of $170M was lost. As a result, BitGrail exchange declared bankruptcy.
According to Francesco Firano, the platform owner, the theft was a result an error in the XRB blockchain. On the other hand, folks from the Nano market blame exchange's loopholes for the incident.
Coincheck, Japan
In 2018, the computers of Coincheck employees were affected by hackers. A special virus made it possible to commit one of the largest crypto-theft ever. The incident resulted in the theft of NEM worth over $548M.
Immediately after the attack, trading on the Coincheck exchange has been stopped to find out the reasons and fix the issue. As a result, over 260 000 investors suffered losses from that disaster.
Bithumb, South Korea
2018 was definitely a bad year for Bithumb cryptocurrency exchange. Those guys managed to lose crypto coins in the amount of $32M. The incident-related scandal caused a true hype in media. The platform had to suspend payment operations and promise its clients compensation. Last but not least, Bithumb exchange reported serious security policy changes. Namely, the platform is going to move clients' money to a specific cool electronic purse which is less vulnerable to hacker attacks.