Bitcoin to Cash in no time? Ask elegro for that
ELEGRO Ecosystem
/ January 21, 2019 / Comments: 0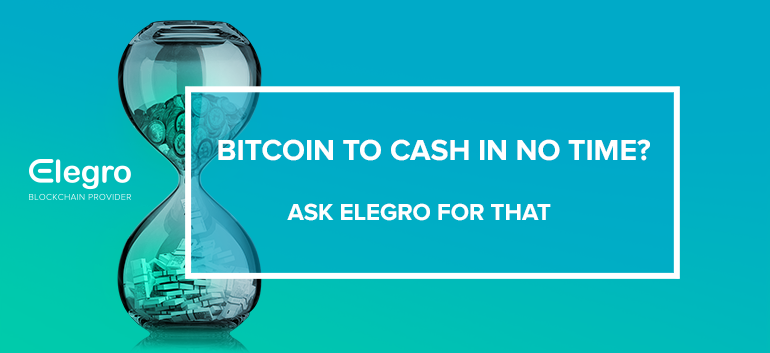 "Bitcoin to EUR, pronto!" These days, such a request doesn't seem crazy to forward-looking folks keeping (partly) their savings in Bitcoin and popular altcoins. It's funny, but things that seemed a load of baloney a couple of years ago are gradually becoming mainstream. This is particularly true with respect to common P2P electronic cash. For modern crypto owners, investments are no longer the only possible way to benefit from decentralized currencies. As coins get more common, people can use them for retail sales or swap crypto coins for local money. Well, it's about time to discover that spending is much more pleasant than storing.
Why should you actually cash out crypto?
Sure thing, swapping bitcoins for regular money isn't a thing a true crypto enthusiast would like. However, fiat money is still more preferable when it comes to your everyday life. The good news is, modern cryptocurrencies including Bitcoin can be easily converted into good old cash accepted everywhere. In addition, cryptocurrency exchange is a sort of solution to make your money "stable." So if you are OK with the idea that you coins will no longer increase in value, cash them out.
What is the best place to sell Bitcoin for fiat?
Anyway, if there's a sudden need for "real money", you can easily sell crypto coins you got. Modern web can offer plenty of platforms offering cryptocurrency exchange services. But when it comes to the most user-friendly Bitcoin exchange, elegro ecosystem has a huge head start. The reason is, elegro offers a comprehensive solution pack for businesses and individuals seeking better ways to spend their crypto assets.
Joining elegro ecosystem is a matter of minutes and requires no money. Instead, you get a natural opportunity to manage/spend your crypto savings fair and square. No middlemen, anxious waiting and excessive processing charges.
Swap coins Bitcoin to Cash in no time
To sell crypto coins with elegro, use a specialized

web service

or free app you can download for your

iPhone

/

Android

.

Create a crypto wallet for a currency you want to sell. Use it to transfer the coins from a crypto address or cold storage.

Using elegro exchange service, sell Bitcoin or other supported cryptocurrencies instantly at direct exchange rates. You got that right, you don't need to wait for days and pay for extra services!

Withdraw fiat received to a business or personal bank account with SEPA.
Congrats! You've discovered the best way to convert your crypto assets to regular money.