Apcopay launches elegro's Crypto Acceptance for merchants
Announcements
/ May 21, 2019 / Comments: 0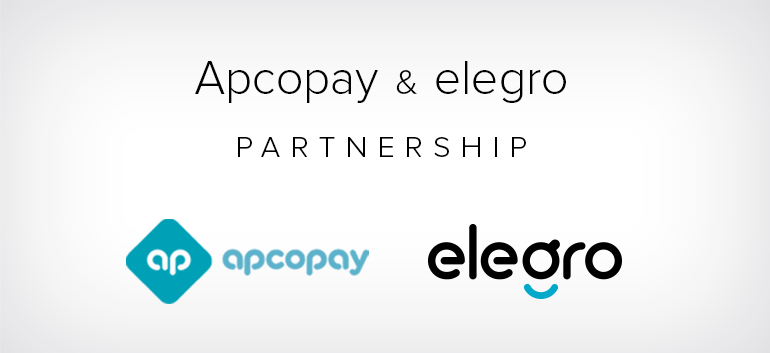 Malta/Estonia – May 20, 2019 – Apcopay, a leading supplier of eCommerce payment and banking solutions for financial institutions, retailers and internet merchants and elegro, an Estonia-based licensed crypto exchange, today announced the launch of elegro's crypto acceptance solution.
Through this partnership, online merchants wishing to accept cryptocurrency may now do that easily, eliminating chargeback risk, typically found within the credit card world, whilst also carrying no currency exchange exposure. Moreover, people will send funds directly to the merchant's bank account without the need to create crypto-specific wallets.
According to cryptopolitan.com, statistics show that the adoption of mainstream cryptocurrencies has increased by more than 70 times in the last six years. Yet more than 80% of users preferred to use a credit card for online purchases. This shows that user acceptance may attribute the crypto propulsion to the next level.
Firstly, forming an integral part of the Apcopay payments offering, merchants who wish to avail themselves of elegro's crypto acceptance solution to their users need only activate the new options. In fact, they can do it through their checkout page without the need for any complex technical development.
What CEOs say about the Crypto Acceptance for Merchants
Timm Schneider, CEO of elegro said "Above all, I'm very excited about the partnership with Apcopay. Firstly, it allows us to drastically speed up our rollout plan for this year and make our crypto merchant acceptance solution available to a large network of businesses immediately. Secondly, we are a young company and such a reliable partner is vital to our success. Existing Apcopay merchants can now enjoy frictionless onboarding and use their existing integration rails to activate our crypto acceptance. This is a major milestone to establish our crypto acceptance for merchants that did not even think about it so far."
Daniel Buttigieg, Head of Business Development for Apcopay said that 'the amalgamation of elegro's product suite within Apcopay's unified integration stack will translate into higher conversion rates for our merchants in need of an additional chargeback-free payment method. Moreover, we do believe that the partnership with elegro will bring about a simplified user and merchant experience to crypto acceptance in non-tech laden environments. We are proud to partner with elegro and roll out a myriad of solutions aimed to streamline the whole process and offer more value."
About Apcopay
Apco Systems Ltd. is a trusted company providing payment services to the banking and eCommerce industry for over 25 years. Payment processing services are offered to more than 25 countries worldwide, 1200+ merchants, and over 40 acquiring partners. It has more than 240 alternative payment methods. Apcopay continues to expand the range of available payment solutions for a variety of industry verticals. Find out more at apcopay.eu
About elegro
elegro is a licensed crypto exchange based in Estonia. It allows merchants to accept Bitcoin and other cryptocurrencies online and at POS. The merchants get settled in fiat without the need to open a crypto wallet or to get involved in the underlying blockchain technology. The brand elegro is established by the company Niko Technologies OÜ, a software house specialized in blockchain development.
elegro also offers easy-to-use solutions for individuals interested in getting involved in crypto payments. For more information, please visit elegro.eu
Media Contacts:
Apco Systems Ltd. (Apcopay)
Daniel Buttigieg
Email: daniel.buttigieg@apcopay.eu
Phone: +356 21445566
Media Contacts:
elegro (Niko Technologies OÜ)
Anastasiia Kuznietsova
Email: anastasiia.kuznietsova@niko-tech.eu
Phone: + 372 880 79 04