3 Successful ICO Projects with Functioning Products
Blockchain
/ April 11, 2019 / Comments: 0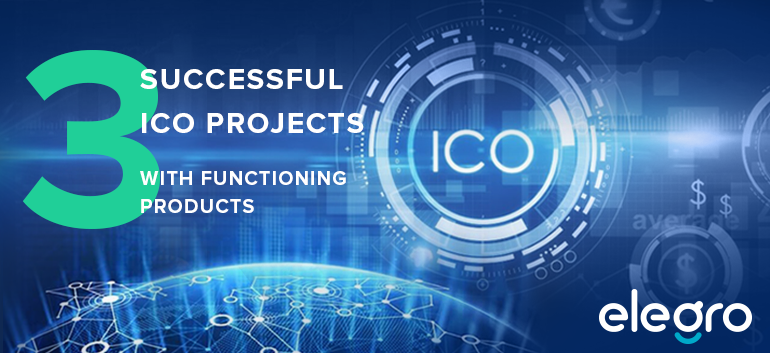 Do you feel cynical about the ICO projects and think they are mostly scams? Well…you have a good point in some way. Actually, the truth is that only 13% of ICOs have real working businesses and functioning products. We researched a great number of successful ICO projects and selected 3 the largest projects which managed to progress towards working products.
Steemit
Steemit is a blockchain-based social media platform with a content incentivizing system. In March 2016,  Ned Scott and Dan Larimer (BitShares creator), started the project. They together founded the Steemit Inc. company the same year.
How does it Work
Firstly, built on the Steem blockchain, it rewards publishers when readers upvote their posts. In their turn, readers also get rewards for curating popular content which presupposes voting on comments and posts. Secondly, the idea behind the project is to measure in value every contribution to social networks. The system calculates value basing on the number of up- and down votes of the community.
Today, Steemit platform counts over 1 million users who get rewards in STEEM cryptocurrency tokens: STEEM and Steem Dollars. Using it, you can manage the tokens through Steemit wallet available on Steemit website. Moreover, according to estimates, users have already got about $40 million rewards. STEEM is a base token of the platform. You can easily convert it to other cryptocurrencies as the token is available on numerous crypto exchanges. Steem Dollars (SBD) are digital tokens supported with US dollars. Users can exchange Steem Dollars to STEEM and back inside the platform. Besides, for holding Steem Dollars you receive an interest rate. It is possible to convert both tokens to Steem Power (SP). In addition, the users with more Steem Power, have more vote strength.
Steemit differs from its competitors like Facebook and Reddit mainly because it saves text context in the blockchain. Above all, thanks to blockchain technologies, Steemit can reward comments and posts with secure tokens. The platform also has a reputation system. New Steemit accounts start with a reputation of 25. Basing on positive or negative votes an account receives, the reputation moves up or down.
Steemit Benefits
Steemit offers the following advantages:
Decentralized social network: Steemit offers censorhip-free content with all its users having a full control of what they've published;

A blogging platform with cryptocurrency for the broad public: Steemit is similar to playing a game where the amount of reward depends on how much users participate;

STEEM and Steem Dollars are even faster and cheaper than Bitcoin and Ethereum;

User-friendly interface: Steemit combines the best features of Quora and ProductHunt.
Moreover, currently, Steemit is a unique blockchain-based platform rewarding publishers for good content and readers for their voting activities. Its reputation system, a cryptocurrency system, a built-in marketplace for promoting good content contribute to the platform's continuous success rise.
NEO
NEO is a blockchain platform that provides developers with a friendly environment for creating decentralized apps and smart contracts. Sounds familiar, doesn't it? Yes, NEO is very close to Ethereum. Da Hongfei and Eric Zhang, platform's founders, were greatly inspired with Ethereum. So, they decided to take its fundamentals improving them so that they resonated with a wider range of developers. For this reason, NEO got the nickname "Chinese Ethereum".

NEO ICO was launched in August 2017 and lasted till September 2017. Within only the month, it raised about $28 million and went down in crypto history as one of the most successful ICO.
Community Development
Significant development and ecosystem strengthening marked 2018. In that very year, the number of Dapps using the platform comprised almost 100. And this number has increased even more after NEO developer conference took place in February 2019. Thus, at the beginning of 2019, NEO had 8 developer communities working on various projects within the platform.
NEO's main aim is to create a blockchain-based ecosystem where tokens digitally represent all assets. Users can manage these tokens automatically, using smart contracts. In such a way the company intends to build a distributed network or so-called Smart Economy.
Noteworthy, many successful ICO projects such as Zeepin, AlphaCat and APEX have been launched on the NEO blockchain. We just wonder whether NEO will eventually overtake Ethereum and TRON in respect of dapp development.
WePower
These days, most countries suffer from a power problem and literally struggle to meet electricity needs. That's why sustainable energy sources are in great demand.
Well, there are already numerous renewable energy sources including hydro, wind, solar, etc. The only problem is a lack of funds for such kind of projects.
WePower is a Lithuanian blockchain startup designed as an open-source platform to collect funds for alternative energy producers. Its main goal is to enable green energy trading through digital smart contracts. Nikolai Martyniuk, a current WePower CEO, founded the company. In 2018, its ICO hit $40 million hard-cap having 22,933 contributors and became the largest successful ICO in the energy sphere of all time. The company has greatly grown over a short period of time and is still growing. It has extended its reach to such countries as Australia, Italy, Spain, etc.
Alternative Energy Tokenization
WPR token is a project's native cryptocurrency. WPR holders can participate in the green energy auctions which take place on the platform. The tokens are fixed in number and, thus, are impossible to mine. Each token is equivalent to 1 kWh of green energy that will be produced in the future. Energy tokenization provides liquidity and allows green energy producers to attract necessary funds.
WePower connects energy buyers with green energy producers to contract energy at a lower cost and with full transparency. Moreover, it is a unique platform that helps consumers to find a renewable electricity producer, contract with it and then monitor generators when they start producing electricity. By tokenizing renewable energy and putting it onto a blockchain, WePower is making that power tradeable and accessible to anyone.
Conclusion
So, what lessons can be learnt from successful blockchain projects? It is easy to notice that all blockchain projects described above have something valuable behind them. Well, many experts agree that the most important factor is whether your coin has an actual good utility. In fact, this is what makes a blockchain project successful separating it from thousand of others which tokens are just sitting on exchanges or in wallets. Of course, the promising and unique idea behind the successful ICO project, its goal, professional team, and whether it has a supportive community, also make a difference.
And what is your opinion on the issue? Share your ideas with us in the comment section below.
___________________________________________________________________________
All the materials our blog holds have been prepared for general informational purposes only and are not intended to be relied upon as accounting, tax or other professional advice. For business-specific recommendations, please refer to your advisors.